Our 2021 Annual Report is here!
The report is one way that we thank YOU and highlights the tremendous impact that your donations and contributions have had on our organization in the last year.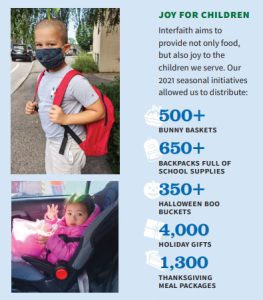 In the report, you'll read about the recent updates in our New Directions Counseling Center, the many changes that took place in the past year in our Bureau Drawer Thrift Shop, the incredible amount of food rescued last year for our food pantry program, and learn a bit about the 400+ volunteers that helped us make all these programs run smoothly last year.
Last but not least, the annual report is a space where we can publicly thank our donors who supported us throughout the year. Our generous donors who gave $100 or more in calendar year 2021 are listed in our Annual Report Donor List.
We hope you'll take a few minutes to have a look!