Volunteer!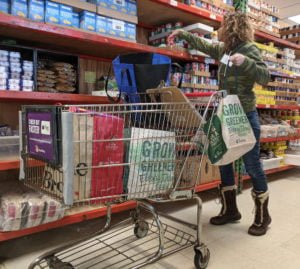 Volunteers are the heart and soul of Interfaith Social Services. Last year volunteers contributed more than 19,000 hours of time serving within Interfaith's various programs. We also welcome corporate volunteer groups and community groups looking for one-day volunteer opportunities. These can be great team-building experiences for your employees while they also get to give back to their community.
(Unfortunately at the current time there are no weekend volunteer opportunities.)
The common denominator among all of Interfaith's volunteers is their commitment to serve our neighbors in need.
Roll up your sleeves and…
serve food to hungry clients through the Pantry Shelf food program
join the team of Bureau Drawer Thrift Shop volunteers who sort clothes and prepare items for sale
assist low-income job seekers as they select professional attire in the Career Closet
grow vegetables in our food pantry garden
answer phones at our reception desk
join a fundraiser event planning committee

organize a food or clothing drive at your job or house of worship
think about what specialized skills you may have and how you can use them to benefit others; call us with your creative ideas
View a list of volunteer opportunities and their job descriptions.
Youth Groups
The majority of our volunteer positions fall during the school day and are for ages 16 and up, however, we have several ways for your youth group to volunteer for Interfaith. Here is a list of Youth Group Volunteer Opportunities.
Want to Help?
Contact Interfaith's Volunteer Coordinator, Paula Daniels, and ask how you can volunteer!
Phone: 617-773-6203 ext.28
Email: pdaniels@interfaithsocialservices.org