Bureau Drawer Thrift Shop
*** COVID-19 UPDATE: The Bureau Drawer Thrift Shop is open! ***
Shop hours are Monday-Friday, 12:30-3:30pm and late on Tuesdays until 7pm.
We are currently accepting donations BY APPOINTMENT ONLY –

https://bit.ly/BDdonation

.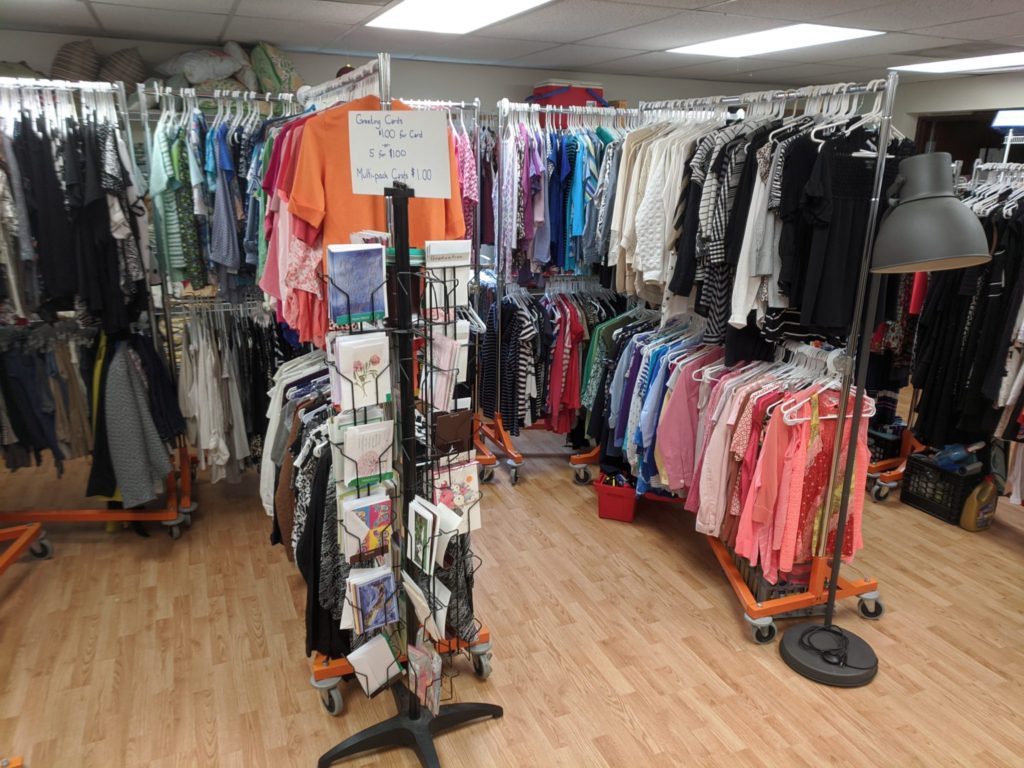 The Bureau Drawer is a boutique style thrift shop staffed entirely by volunteers with all proceeds benefiting Interfaith Social Services programs.
The Shop is open to the public and specializes in clothing, shoes and jewelry with current styles for everyone. We also sell small electronics, books, toys, CDs, DVDs, artwork, linens, china, antiques, collectibles, vintage items and MUCH MORE!
Volunteer at the Bureau Drawer
Volunteers are needed at the Bureau Drawer! If you're interested in signing up for a regular, weekly volunteer shift in the Shop, please contact Paula Daniels at pdaniels@interfaithsocialservices.org. Both morning inventory shifts and afternoon retail shifts are available.
Donate Today
We are taking Thrift Shop donations BY APPOINTMENT ONLY. Please sign up for an appointment here: https://bit.ly/BDdonation.
Since 1975 the Bureau Drawer has been supported by generous donations of clothing and household goods from the community. Our donation center provides receipts for all of your tax-deductible donations. Donations are tax deductible to the fullest extent allowed by law.
DONATION GUIDELINES
Donations are resold in our boutique-style Thrift Shop, which is open to the public. Items must be in new, "like-new," or "excellent used condition." All proceeds from sales go directly to Interfaith Social Services' emergency food, mental health and homelessness prevention programs.
Torn, stained or well-worn clothing is sent to textile recycling. Please bag these items separately and mark them as "POUNDAGE." We are paid by the pound for the textiles and the funds go directly to Interfaith's programs.
We welcome donations of adult and children's books! Our Thrift Shop has a fantastic book section. Donated children's books are distributed in our food pantry to clients with children.
We are unable to accept furniture, mattresses, car seats, broken housewares, broken electronics, broken toys (or toys with missing pieces) and used stuffed animals.
No hangers, please.
Questions? Please call us at 617-773-6203 ext. 32 or email info@interfaithsocialservices.org.
Furniture Donations
Unfortunately, our Thrift Shop does not have enough space for furniture donations. If you are from the South Shore and are interested in donating furniture here are some organizations that accept donations:
New Life Furniture Bank of MA: 774-316-6395
Friends of the Homeless of the South Shore, furniture bank: 781-340-1604
Massachusetts Coalition for the Homeless, furniture bank: 781 595 7570, ext. 13
My Brother's Keeper Business/Donation Line: 508-238-7512
New Life Home Refurnishing – 774-316-6395
Society of St. Vincent de Paul: 1-800 675 2882 or 781-341-4455
Teen Challenge: 508-427-6475
Join our Email List
Sign up to receive all the latest updates about the Bureau Drawer Thrift Shop, including dates of sales, coupons and more!
Thrift Shop Hours
Monday – Friday, 12:30pm – 3:30pm
Tuesday nights until 7 pm
Donation Hours
We are currently taking Thrift Shop donations BY APPOINTMENT ONLY. Please sign up for an appointment here: https://bit.ly/BDdonation.
Location
105 Adams St, Quincy MA 02169
The Bureau Drawer Thrift Shop is located in the rear of Interfaith Social Services' offices.