Bureau Drawer Thrift Shop
*** 3/20/2020 COVID-19 UPDATE: We have made the decision to temporarily close our Bureau Drawer Thrift Shop due to current public health concerns. We are a volunteer-based organization and we want our volunteers and customers to feel safe during this unprecedented public health event.
We also are unable to accept Thrift Shop donations at this time.
We do plan to reopen once public health agencies give the all clear. Thanks for your support! ***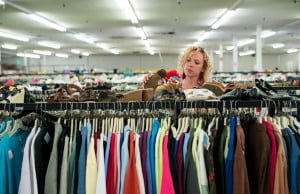 The Bureau Drawer is a boutique style thrift shop staffed entirely by volunteers with all proceeds benefiting Interfaith Social Services programs. The Shop specializes in clothing, shoes and jewelry with current styles for everyone. We also sell small electronics, books, toys, CDs, DVDs, artwork, linens, china, antiques, collectibles, vintage items and MUCH MORE!
Donate Today
Since 1975 the Bureau Drawer has been supported by generous donations of clothing and household goods from the community. Our donation center provides receipts for all of your tax-deductible donations. Donations are tax deductible to the fullest extent allowed by law.
Here are some items that are always in demand:
Knickknacks and curiosities
Clean gently worn clothing
Books
Small working appliances
Jewelry
Clean toys – please no stuffed animals
Shoes & handbags
All household items
We do not accept: leftovers from garages sales, TVs, outdated computer equipment, or residential cleanouts.
Furniture Donations
Unfortunately, our Thrift Shop does not have enough space for furniture donations. If you are from the South Shore and are interested in donating furniture here are some organizations that accept donations:
New Life Furniture Bank of MA: 774-316-6395
Friends of the Homeless of the South Shore, furniture bank: 781-340-1604
Massachusetts Coalition for the Homeless, furniture bank: 781 595 7570, ext. 13
My Brother's Keeper Business/Donation Line: 508-238-7512
New Life Home Refurnishing – 774-316-6395
Society of St. Vincent de Paul: 1-800 675 2882 or 781-341-4455
Teen Challenge: 508-427-6475
Thrift Shop Hours
Monday – Friday, 12:30pm – 3:30pm
Tuesday nights until 7:00 pm
Donation Hours
Monday-Friday, 8:30 a.m. – 3:30 p.m.
Tuesday nights until 7:00 p.m.
The Bureau Drawer Thrift Shop is located in the rear of Interfaith Social Services' office at 105 Adams Street in Quincy, MA. After hours donations can be left in the rear of the building, near the back door.