Help local students start off on the right foot in September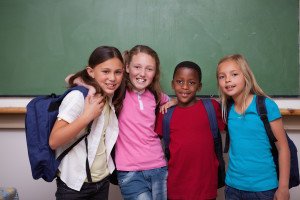 Our food pantry serves about 500 school-age children each month. Every August we distribute backpacks full of school supplies to every child whose parents are food pantry clients. This initiative emphasizes the importance of education, defrays an additional cost faced by our clients, and helps kids start the year right.
If you can't assemble a backpack full of school supplies please donate to help us buy the supplies we need to put them together.
Backpack distribution will start on Monday, August 1st. Therefore, all backpacks with supplies will need to be dropped off at our office by July 31st.
We ask our community partners to pre-pack backpacks, rather than donate individual supplies.
Two types of backpacks are needed – one for grades K-5 and another for grades 6-12. Donations can be dropped off at our office at 105 Adams St. in Quincy MA: Monday – Friday 8:30am -4:00pm and until 7:00pm on Tuesdays. Please label each individual bag by grade level to expedite the distribution process. Please make the labels large and easy to read.
ALL backpacks should include:
spiral notebooks or composition notebook
pocket folders
#2 pencils
For the grades K-5 backpacks, we suggest also including:
colored pencils
washable markers
crayons
glue sticks
For the grades 6-12 backpacks, please also include:
a calculator
index cards
pens (black or blue, no gel)
highlighters
2" three ring binders
a flash drive (2GB or greater)
If you have questions or would like to participate, please email ekelly@interfaithsocialservices.org or call 617-773-6203 x19.