Lots of changes here at Interfaith over the summer! We welcomed a new Food Pantry Manager and Food Pantry Driver and a new position was approved for myself, as Development Associate. We also brought on a new fall intern, who will be working with us through the holiday season. The fresh enthusiasm around the building has brought some nice energy to our programs!
Here's a little info about the new faces:
Eileen Kelly – Food Pantry Manager
Eileen is responsible for the oversight of Interfaith's Pantry Shelf, Career Closet, Harvest Helpers and Learning Pantry programs. A passion for social justice issues permeates Eileen's life. She has been involved with many different nonprofit organizations conducting advocacy and outreach efforts around such issues as: domestic violence, marriage equality, adoptee rights and the National Mental Health Alliance. Throughout all of her volunteer experiences hunger insecurity has been one that she is most passionate about. For years she has volunteered at local food pantries and soup kitchens here in Massachusetts as well as in Maine and New York. Outside of volunteering Eileen has had a diversity of career experiences from being a senior litigation paralegal to an insurance industry claims adjuster. Most recently she was employed as the Community Engagement Manager for the Greater Boston Food Bank. She is a very proud mother of two talented sons and grandmother of a cherished grandson. Eileen studied Art Education at The University at Buffalo, State University of New York. She is a landscape painter affiliated with the Artists Group of Charlestown, MA – Stove Factory Gallery.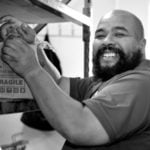 Geoff Bowen – Food Pantry Driver
Geoff is responsible for our food rescue program, driving our rescue van to various grocery stores and retailers that provide us with food. Geoff was born and raised in Massachusetts and is trained as a professional chef. He met his wife while working at a theater in New York and moved to Quincy after graduating from the Culinary Academy of New York. Geoff is currently a student at Eastern Nazarene College, where he studies business management. He's a big Boston sports fan and likes to cook and read in his free time. He and his wife have two daughters.
Jennifer Sammons – Development Associate
My position is responsible for aiding the development team – organizing fundraising events, managing volunteers, and producing public relations and social media campaigns. I was born and raised in Tampa, FL, and graduated with a BS in journalism from the University of Florida (Go Gators!). My professional background is in digital journalism and I've worked as an editor at media outlets in North Carolina, Colorado, Connecticut and Massachusetts. I most recently served as an editor at Boston Parents Paper magazine. My volunteer experience covers a wide spectrum, from training sea lions at the Mystic Aquarium to co-chairing the annual gala at my son's school, Adams Montessori. I previously volunteered in Interfaith's food pantry. I live in Quincy with my husband and son and love to read, cook, garden and travel.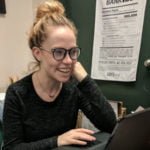 Elena Galland – Food Pantry Intern
Elena grew up outside of San Francisco and moved to Quincy to attend Suffolk University to get her BS degree in Psychology. She hopes her internship will help her gain a better understanding of the world of social services. She is planning on starting on her Master's degree in Social Work in Fall 2018. In her spare time, she enjoys being active outdoors, trying different foods and reading.