We welcomed the newest slate of Hall of Fame volunteers last Thursday at Interfaith's Volunteer Appreciation Night, while also thanking and recognizing all the hard work of our amazing volunteers.
Staff, board members, members of our event committees and many of our wonderful volunteers gathered June 14, at the Quincy Elks Lodge for an evening of food, trivia, raffles and awards. This annual event allows us to give back to those who give so generously of themselves to our organization throughout the year.
We kicked things off with a delicious catered dinner from That's Tasty, which included Chicken Piccata, Roasted Eggplant and Marinated Sirloin Tips.
Then we moved on to the raffle, where lucky winners walked away with restaurant gift cards, Starbucks goodies, Fruit Center gift cards, movie tickets and more.
Paula inducted 25 new members into our Matti Lang Hall of Fame. The Matti Lang Volunteer Hall of Fame is named after one of Interfaith's most dedicated volunteers who gave decades of his life selflessly serving Interfaith's clients. The honor of being inducted into the Hall of Fame is bestowed upon volunteers who have been serving within the organization regularly for at least the last year.
Congratulations to our 2018 inductees!
Jean Accorsini
Rosalyn Baker-Greene
Linda Baumeister
Jeanne Butts
Casey Cameron
Stephen Coady
Terry Donovan
Joyce Feeney
Angela Fleming
Gillian Grossman
Pam Harty
Judy Kiley
Sarah Livermore
Peter Lung
Jay Marvin
Ariana McBride
Katie McEvoy
Susan Moorhead
Jean Murphy
Alex Prager
Dea Semini
Anita Siwy-Knight
Christine Swanson
Gail Valles
Ellen Walsh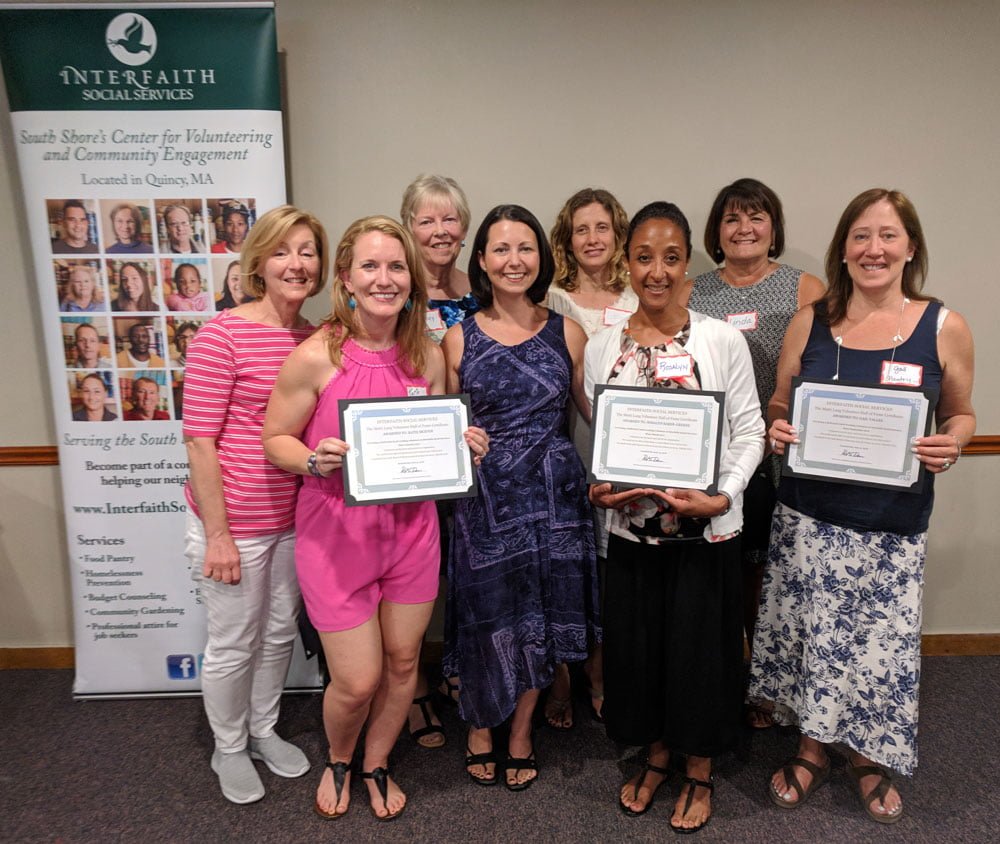 In addition to the Volunteer Hall of Fame, we also honored our 2018 Community Partner of the Year, Arbella Insurance. This award is specifically for businesses or organizations that have demonstrated an exemplary commitment to volunteerism. Arbella's efforts to instill a culture of service and community engagement among their employees have made a measurable impact on Interfaith and those we serve.
This is the first year that Interfaith has honored a business with this award and there was no question the Arbella should be the first recipient. Arbella has partnered with Interfaith for at least two decades, making them our single longest corporate partner. Last year alone, Arbella's employees gave us close to 500 hours of their time. They helped in the food pantry, distributed Thanksgiving meals and holiday gifts to clients, set up for our Feed the Hungry Gala and our Stop the Stigma 5K, worked in our garden and processed large mailings. In addition, 22 of their employees walked or ran in our Stop the Stigma 5K. We are so grateful for the philosophy of giving and service that Arbella cultivates in their offices. Beverly Tangvik and Jennifer Reale accepted the award on behalf of Arbella.
We ended the night with a spirited round of trivia. Tables competed against each other for bragging rights and Target gift cards. Do you know the answers to these stumpers?
How many James Bond films are there?
Name the top three TV/streaming shows for the 2017/18 season.
How many bags of clothing were donated to the Bureau Drawer Thrift Shop last year?
(Answers at the end of this post.)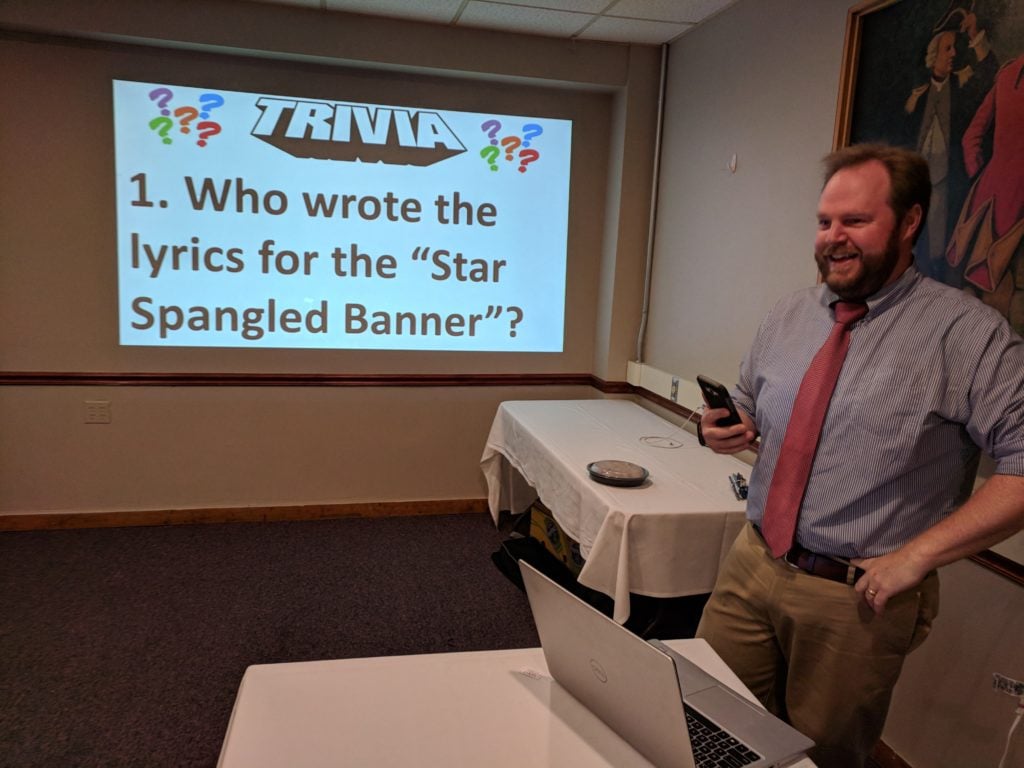 Congratulations to "The Two Bills" table, this year's trivia winners!
Volunteers left with six-packs of mini cupcakes from Sadie Mae's Cupcake Cafe in Hingham.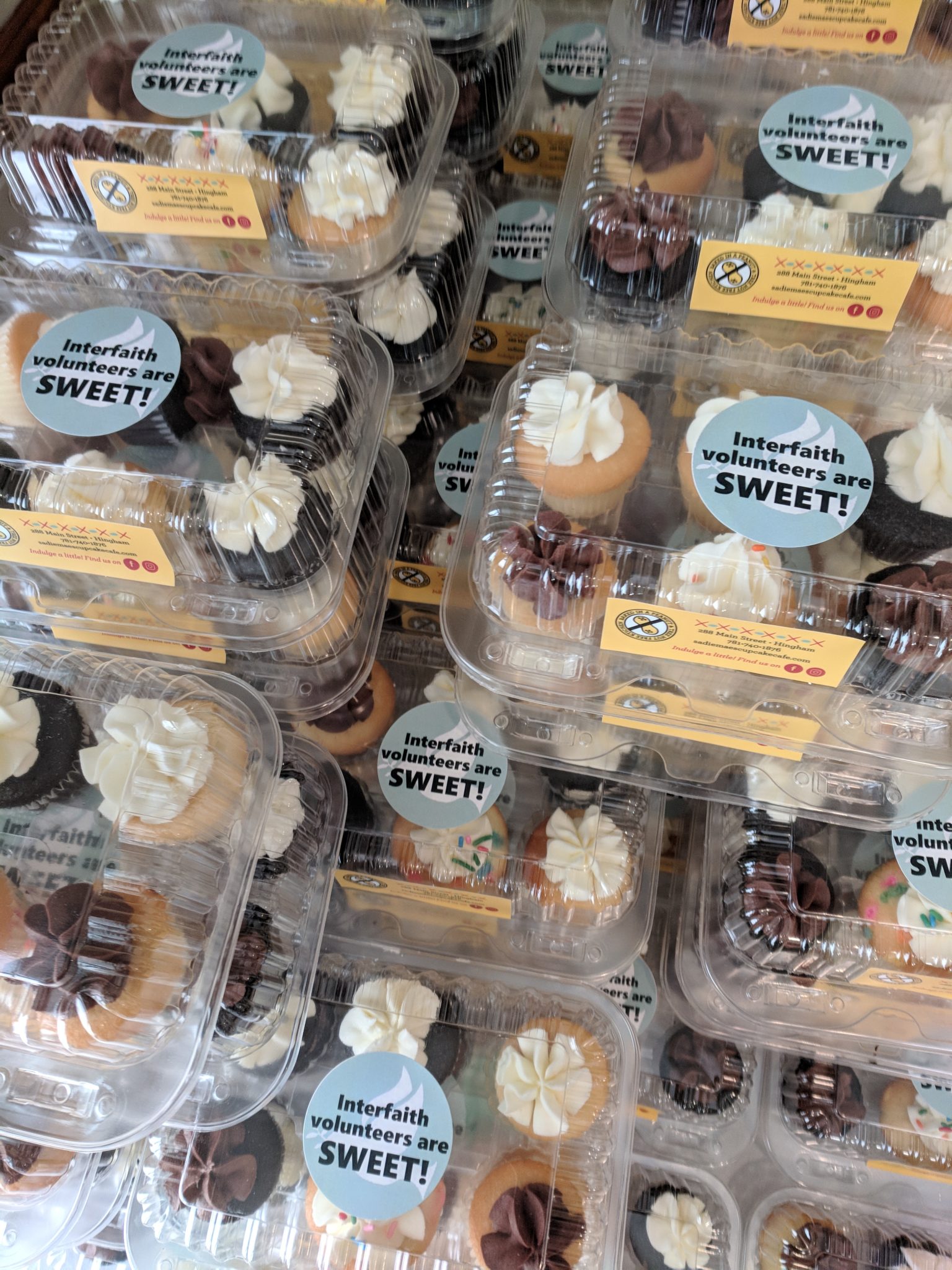 A big thank you again to all our volunteers, who give tirelessly in serving their communities. Interfaith wouldn't exist without you!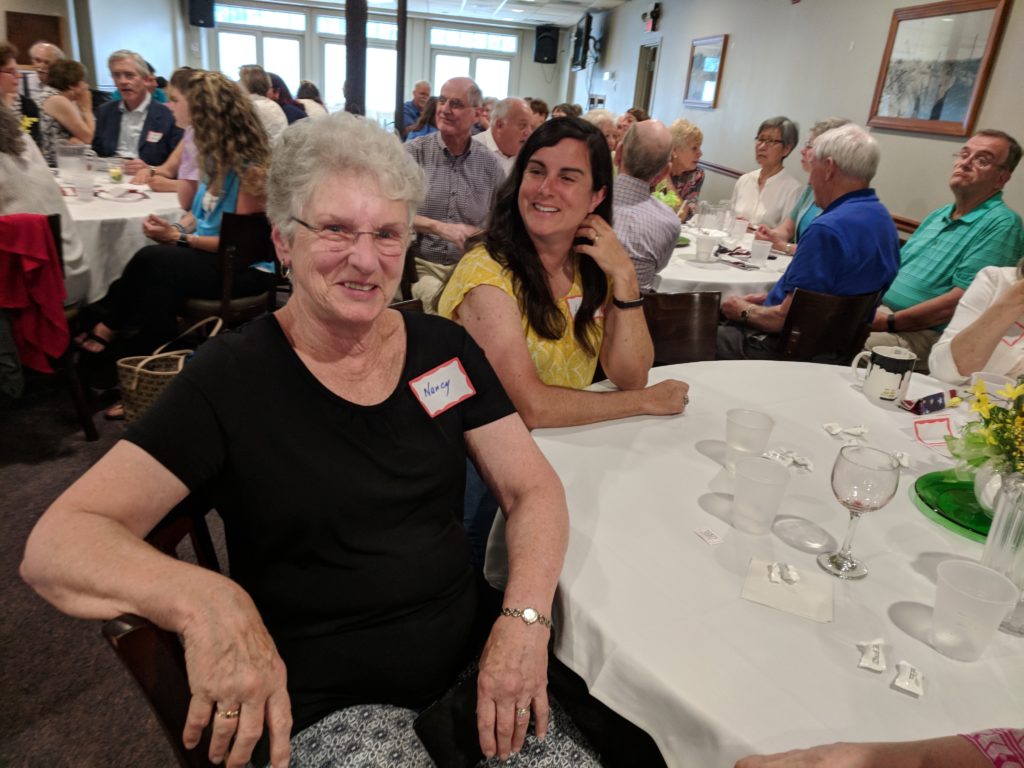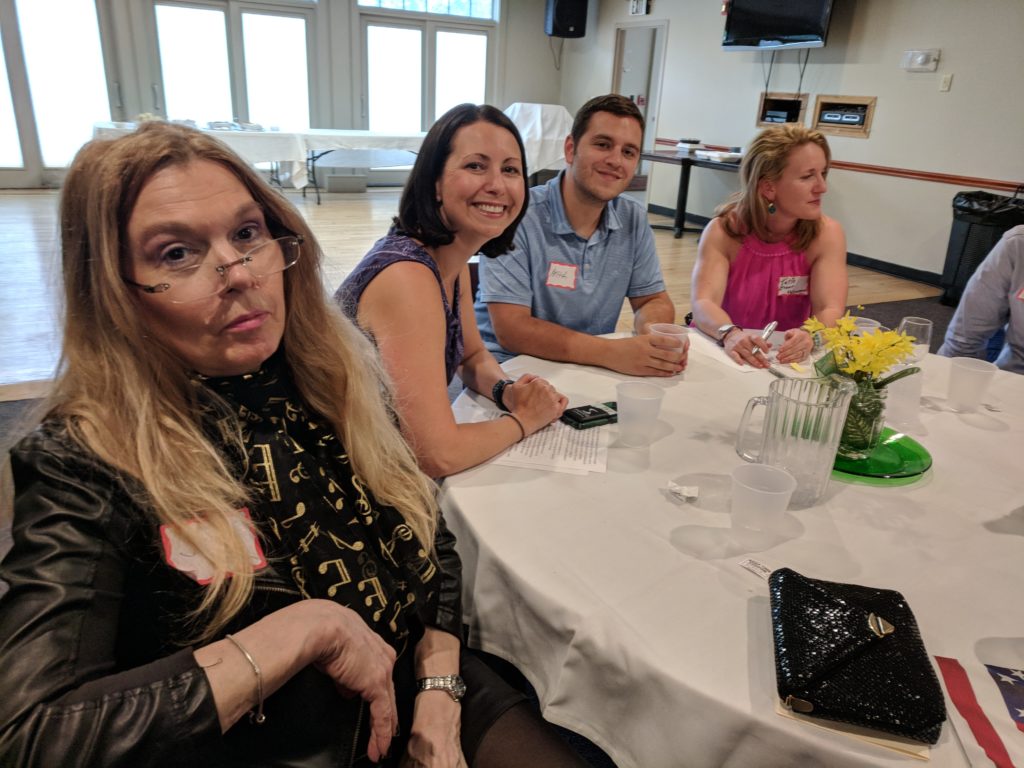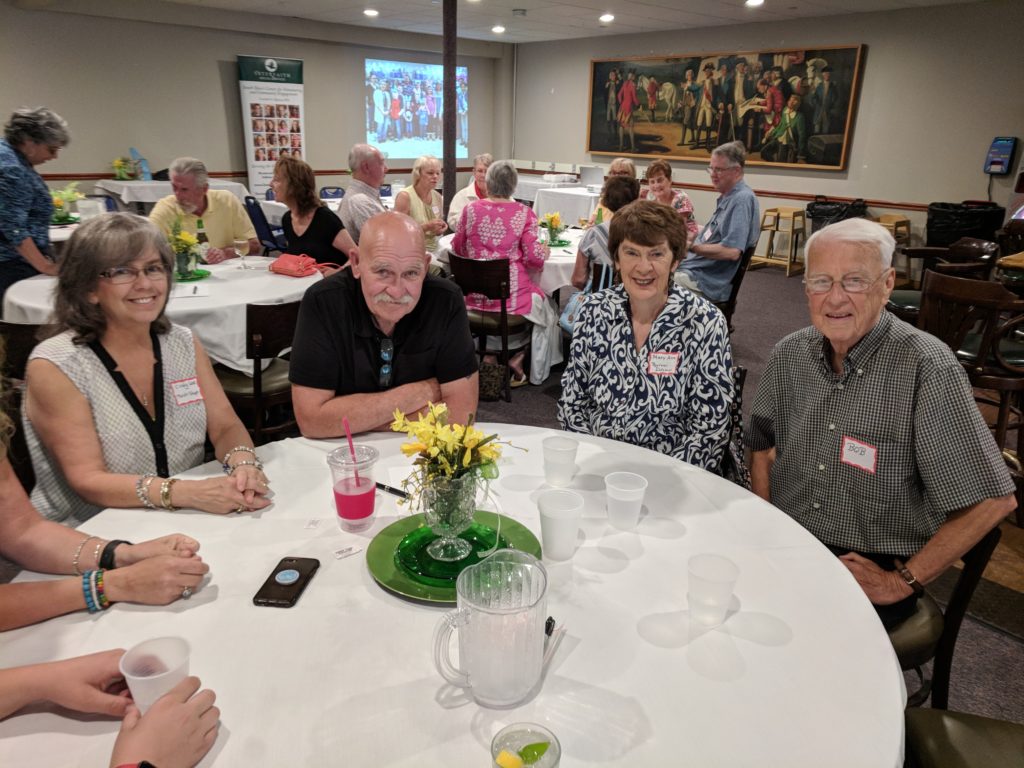 Trivia answers: 1) 25
2) Game of Thrones, Stranger Things, The Walking Dead
3) 9,441