Suits and cocktail dresses stayed tucked away in closets this year, but Interfaith's donors came through with an extraordinary showing of support for this year's Feed the Hungry Gala at Home on Dec. 4.
Due to the unprecedented challenges presented by the ongoing coronavirus pandemic, the Gala was presented this year in a virtual format on Zoom. Despite the format change, sponsors and donors came together to contribute an astounding $370,000, which will sustain Interfaith's emergency food, mental health counseling and homelessness prevention programs into the next year.
Ticketed guests enjoyed a half-hour cocktail program before the main event, featuring music, games and more. The South Shore's Old Oaken Bucket Band performed several songs that had been recorded specifically for the event, gala sponsor Spiritfruit shared a cocktail demonstration and longtime Interfaith supporter BinEnds gave a lesson on wine.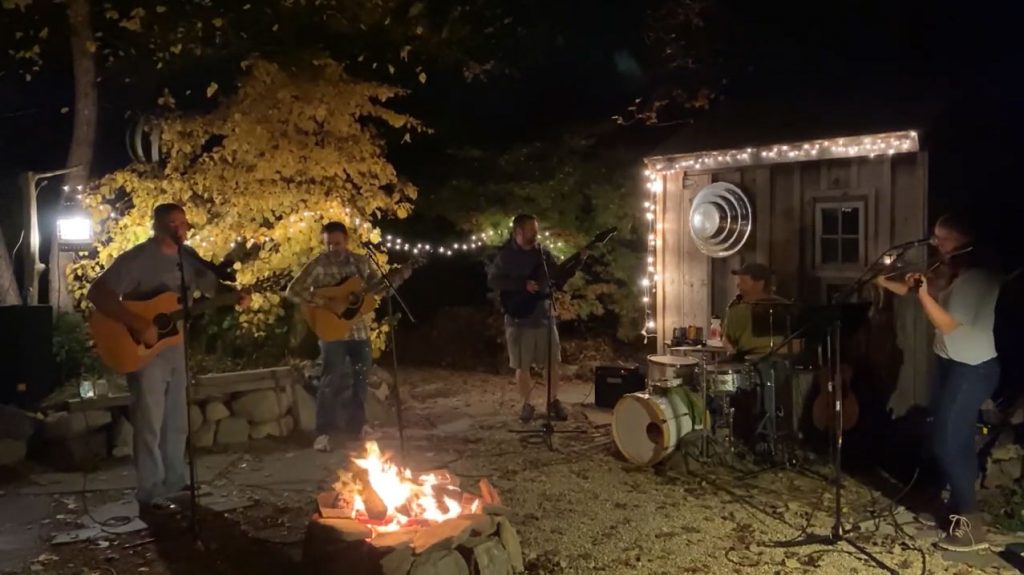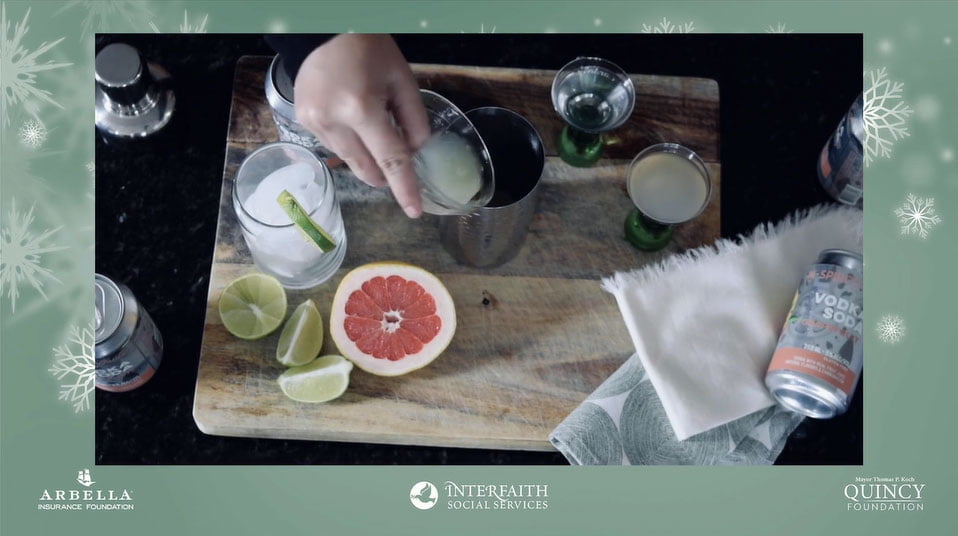 Premium ticket holders took part in several games during the pre-program, including a Wheel of Chance game. Winners took home gift certificates to area restaurants, including Coffee Break Cafe, Pearl & Lime and Granite Links.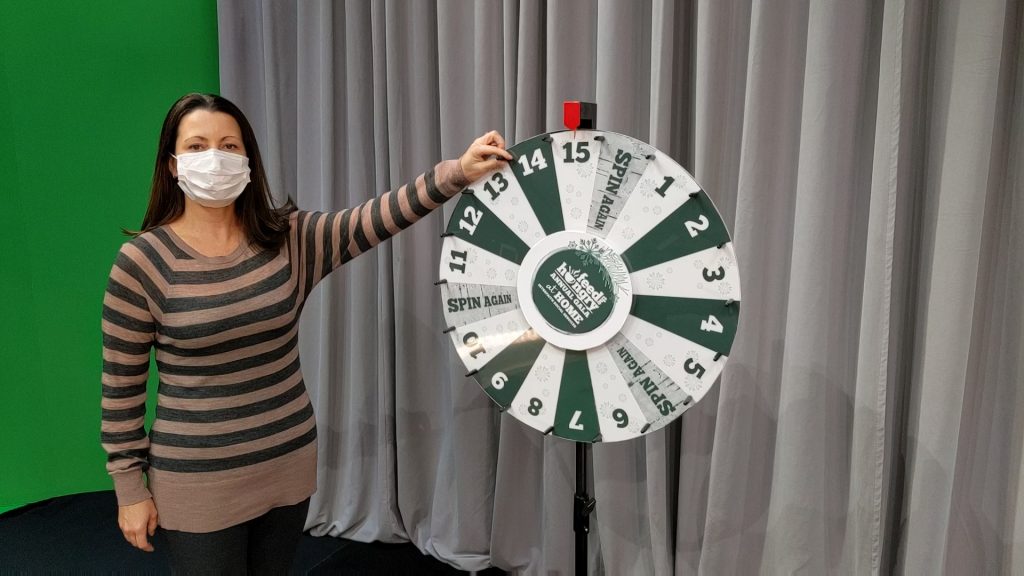 After the cocktail portion, Interfaith's Executive Director Rick Doane welcomed guests and introduced a video spotlighting Interfaith's amazing volunteer crew. From his comments:
"At the start of this pandemic, when vulnerable populations were asked to remain at home, more than half of our regular volunteers were no longer able to come in for their weekly volunteer positions. We worried for a moment that we wouldn't be able to keep the food pantry running at full capacity.

But then a miracle happened. So many wonderful people in this community stepped up and wanted to help. These volunteer "superheroes" jumped right in to serve our neighbors in need. They are the reason that we are able to continue feeding and helping people." — Rick Doane
Throughout the program, guests learned about Interfaith's mission and programs, including the impact of their donations and sponsorships. Did you know:
$10,000 provides over 8,000 pounds of fresh vegetables for hungry families
$5,000 funds our counseling center for two weeks, providing hundreds of counseling sessions to community members in need
$2,500 provides three months' worth of diapers for children whose families depend on our food pantry
$1,000 prevents homelessness for one South Shore family
$500 purchases 25 backpacks filled with school supplies for local children in need
$250 buys five hand carts for clients who walk or take public transportation to the food pantry
$100 provides 28 women with pads or tampons for the month – hygiene is not a luxury!
Near the end of program, Rick announced that just a day prior Interfaith received the largest one-time donation they've ever received. The Flatley Foundation surprised Rick and Interfaith's Development team with a $100,000 donation to the Feed the Hungry Gala! This generous contribution brought the total funds raised for the event to more than $370,000. Incredible.
The program ended with a Gala favorite – Heads or Tails. The game, a coin flipping game of chance, is a popular feature at the annual in-person gala. Participants this year competed for a $500 VISA gift card donated by Interfaith's Board of Directors.
Gala guests also went home with a unique souvenir. The restaurant and beverage partners who normally whip up delicious tastings for the event contributed to a Feed the Hungry Recipe Book. Featuring recipes from Alma Nove, Coffee Break Cafe, The Corner Stop, Spiritfruit Premium Vodka & Real Fruit, Fuji at WoC, Pearl & Lime, Granite Links, The Townshend and Victory Point, attendees can now try their hands at making some of our partners' classic dishes.
Many of Interfaith's restaurant partners also graciously contributed to the Silent Auction. Auction packages included a "farm chic" dinner for 20 by The Townshend and Holly Hill Farm, a round of golf at Black Rock Country Club, a Home Office Makeover and an Alma Nove dinner for six provided by Chef Paul Wahlberg.
Save the date for the 24th annual Feed the Hungry Gala – Dec. 3, 2021!
**********************
Interfaith Social Services is grateful for all of the supporters who made the 2020 Feed the Hungry Gala at Home such a big success. We thank our sponsors:
Presenter Sponsors: The Flatley Foundation, Arbella Insurance Foundation and Mayor Thomas P. Koch Quincy Foundation
Champion Sponsors: Envision Bank, A Healthy Balance and HarborOne Bank
Hero Sponsors: Cambridge Savings Charitable Foundation, Quincy Mutual Group, Signet Electronic Systems, Inc. and MavroCreative
Activist Sponsors: Anodyne Homemaker Services, Beth Israel Deaconess Hospital-Milton, Black Rock Cares, Blue Cross Blue Shield of MA, BMC HealthNet Plan, Campbell, DeVasto & Associates, Foxcroft Real Estate Management, FoxRock Properties, Keohane Funeral Home, MountainOne Bank, Neponset Valley Survey Associates, South Shore Health, State Street Corporation, Stop & Shop Supermarket and Yale Appliance & Lighting
Supporter Sponsors: Bank of Canton, Bay State Milling, Coastal Heritage Bank, Cohasset Insurance, Cosgrove, Eisenberg & Kiley, P.C., Crocker Electrical Co Inc., Eastern Bank Charitable Foundation, First Congregational Church Randolph UCC, Law Office of Francis X. Collins, Law Offices of George G. Burke, Plymouth Quarries, Rockland Trust – Blue Hills Charitable Foundation, South Shore Bank, Stephco Cleaning Co., United Healthcare Senior Care Options and Weymouth Rotary Club
Friends of Interfaith: Jennifer & Adam Chu, Victor Coletti, Thomas and Mary Dinneen, Robert Gibson, Art & Kathy Green, Andrea Kinnealey, Sarah & Kurt Livermore, Lisa McBirney, Susan Mueller, Gail Otis and Alexander & Nadine Steffan
In-Kind Donors and Media Sponsors: Elite Envelopes, East Coast Printing, Massachusetts Convention Center Authority, North Atlantic States Regional Council of Carpenters and South Shore Home Life & Style