Our 47th annual (but 2nd annual virtual) Stop the Stigma 5K has broken our fundraising record again, raising more than $75,000! Thank you!
Because of the outpouring of love from our 400+ participants, the therapists of our New Directions Counseling Center will be able to provide more than 2,500 counseling sessions this year for those that are uninsured or who cannot afford high co-pays or deductibles. This event is truly saving lives.
So many of our friends, family and neighbors suffer in silence because they cannot afford the help they so desperately need. At Interfaith, we strive to break down all barriers, including financial, for everyone who is seeking mental health treatment.
This event not only provides financial assistance for counseling services, it opens the dialogue in the hopes that those suffering will feel more comfortable to seek out the help they need without feeling shame.
Why I Ran…
After personally witnessing the effects of addiction in her family, Alyssa wanted to understand the biology of substance use disorders. Now she is finishing her PhD in neuroscience at Tufts University to understand how alcohol changes the conversations between brain cells. She ran the Stop the Stigma 5K this year for the nearly 90% of people who never receive appropriate addiction counseling and is grateful to be able to help South Shore families access the help they need.
Alyssa shared, "I'm so happy my story resonated with you and I'm grateful for the work you're doing with this 5K as there is definitely still work to do to address stigma around mental health and addiction issues."
Why I Ran…
Mary from Quincy shared with us: "My husband of 29 years just died on January 2, 2021. He passed away from alcoholism and had anxiety and major depressive disorder. Despite all the benefits in front of him, he could not fight the demons. My 3 sons and I don't want this to happen to another family.
New Directions is helping me by offering grief counseling. The Stop the Stigma 5K raises money so people less fortunate can get the help they need."
Find more information about our New Directions Counseling Center
Photo Contest Winners
It was so much fun to see finisher photos come in from all the individuals and families and the very, very different courses (and running socks) people chose! These photos represent the winners of our photo contests – we hope you enjoy them as much as we have!
Congrats to our fastest runners!
You really blew us away with your amazing finish times! May you all enjoy your bragging rights over this next year. Be sure to come back next year to defend your titles!
Race Winners:
• Fastest female under 40 – Rebecca Norton
• Fastest male under 40 – Ryan Connon
• Fastest 40+ female – Christine Booth
• Fastest 40+ male – Jeff Shaw
Thank you STS5K 2021 Corporate Teams
This year's top four Stop the Stigma 5K Teams had a combined total of 136 participants this year! It is wonderful to see these companies rallying their employees to get involved in their community.
A huge shout out to our Corporate Teams Arbella Insurance, IntelyCare, PMA Consultants and J. Calnan & Associates!
Top Fundraisers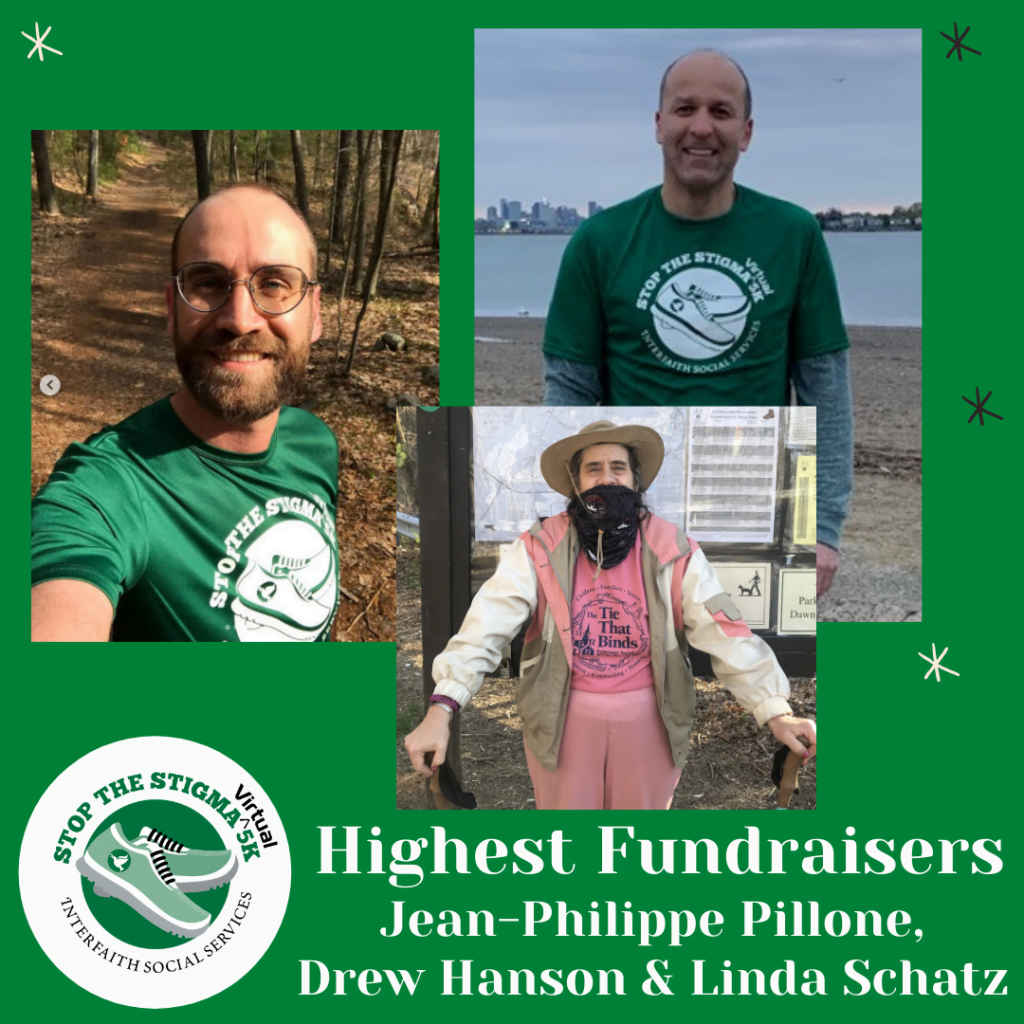 Many of our participants took to social media and asked their friends, family, neighbors and co-workers to contribute to STOP THE STIGMA of mental illness. They asked for pledges for their 5Ks and helped us smash our fundraising goals. This year's top 3 fundraisers raised an astonishing combined total of $4,200 (and counting!).
THANK YOU SO MUCH!
Missed the event but still want to help provide mental health counseling for those in need? DONATE NOW
Thank you sponsors!
Arbella Insurance, The Heritage Companies, Beth Israel Deaconess Milton, IntelyCare, J. Calnan & Associates, Harvard Pilgrim Health Care, First Congregational Church of Randolph, Plymouth Quarries, SIGNET Electronic Systems, Keohane Funeral Home, South Shore Health, United Healthcare, Blue Cross Blue Shield of Massachusetts, Burgin Platner & Hurley Insurance Agency, Fruit Center Marketplace, PMA Consultants, Sandbox Medical LLC, Weymouth Rotary, Iron Workers Union Local 7, Massachusetts Convention Center Authority, Roche Bros and Ward 4 Neighborhood Association