Each year, Interfaith presents the Community Hero Award to someone who inspires others through selfless service. For 2017, that individual is Bob Taylor, a compassionate, generous clinician and leader who served our organization for more than 30 years.

Bob was the Executive Director of Interfaith Social Services from 1967–1994. Then he retired….until 2001 when he came back again and was director for another three years. He then continued to see mental health clients for more than a decade.
When he finally decided to stop seeing counseling clients about two years ago, Interfaith staff held a party for him. During the party he leaned over to our current Executive Director Rick Doane and said "You guys threw a retirement party just like this for me about 20 years ago."
His friends and colleagues shared these kind words about him:
"Bob represented the best of Interfaith Social Services. He was a man of character. ... Bob demonstrated those important traits of commitment, steadfastness, and compassion. In all challenges he tackled he was the consummate professional and always a gentleman." -- Jim Thorne, past president of Interfaith's Board of Directors
"My favorite time was early in the day having coffee with Bob.  It was special as we talked about work, family, current events, shared stories, and some jokes. Bob has the best sense of humor. Bob is a gentlemen and a gentle man.  His quiet presence would calm the most tense situation in the pantry." -- Bettyanne Lang, former Interfaith Food Pantry Manager, for more than 20 years
"I could always be certain of receiving wise and solid advice from him. ... He was skilled and knowledgeable, nonjudgmental, and it was an honor to work with him. He is always very gentle but never missed a beat and no one could put anything past him. ... His heart is the heart of ISS; I feel that his love for the agency and its mission has shaped what it has become and continues in today's work." -- Claire Hagan, Interfaith's Counseling Coordinator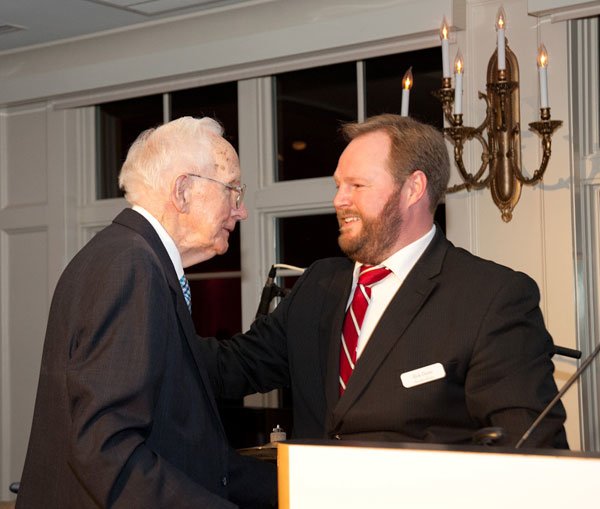 Bob was recognized December 8 at our annual Feed the Hungry Gala. We hope to make him proud in the decades to come by continuing to model his compassionate, respectful demeanor here at Interfaith.
Interfaith's Directors
Rick Doane - 2009-present
Laura Straco - 2004-2009
Bob Taylor - 2000-2004
Maryanne Walsh - 1996-1999
Betty McClure - 1994-1996
Bob Taylor - 1967-1994
Keith Rawlins - 1961-1965
Rev. Gregory Maletta - 1950-1961