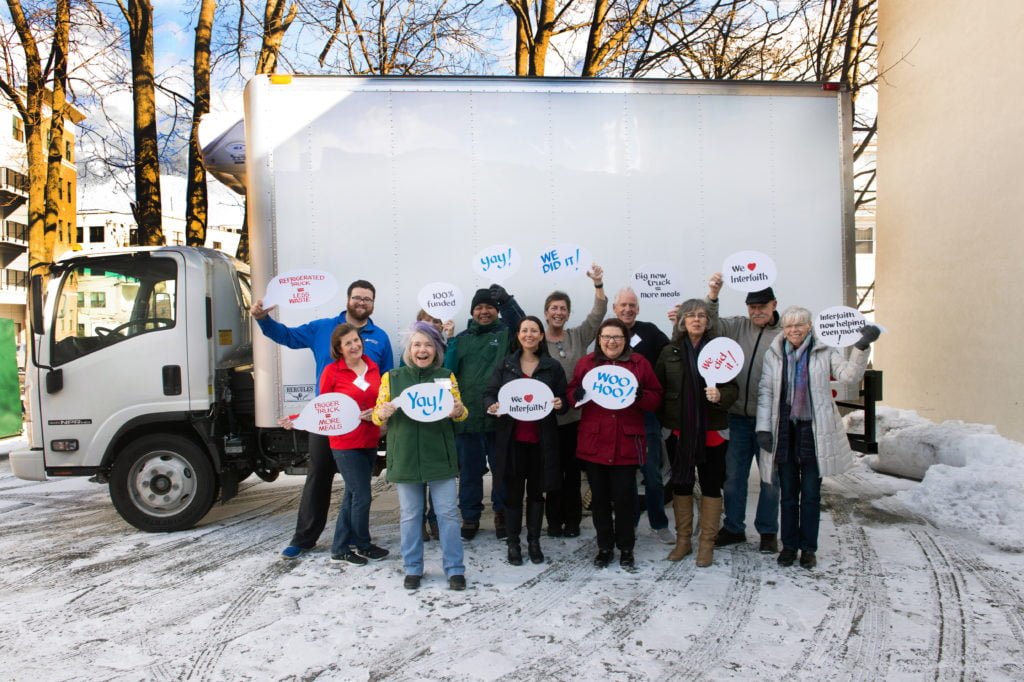 We're excited to announce that our 2018 Capital Campaign has been fully funded!
Our generous donors contributed more than $165,000 to help us expand capacity in the food pantry and New Directions Counseling Center.
In the past decade, the number of food pantry clients we've seen in need of food assistance has climbed from 10,000 per year to more than 23,000. In the same time period, the New Directions Counseling Center went from providing 1,900 counseling sessions to more than 2,500 sessions per year. As programs have expanded, the need for facility improvements became apparent.
Funds will be allocated to:
A Walk-In Freezer – an energy-efficient walk-in freezer will replace a set of aging and inefficient freezers, cutting energy bills and doubling storage space for frozen meats and foods.
A New Food Pantry Truck – we've purchased a larger capacity refrigerated truck that doubles the amount of food we can rescue at local grocery stores. It also decreases the number of rescue trips needed, saving time and gas.
Office Reconfiguration – counseling offices will be soundproofed and moved to avoid distractions from the food pantry. Two larger offices will be divided to create more unique spaces for therapy sessions.
Facilities Improvements – flooring will be replaced in high traffic areas, light fixtures will be switched out with energy efficient fixtures, and adjustments will be made to the lobby to improve accessibility and flow.
HarborOne Bank President Joe Casey (right) presents Interfaith's Executive Director Rick Doane with a $30,000 grant from the HarborOne Foundation for a new walk-in freezer in the food pantry.

Eastern Bank Charitable Foundation presented a $25,000 partnership grant to Interfaith Social Services for their 2018 Capital Campaign. Eastern Bank, America's oldest and largest mutual bank, gives 10 percent of its net income to charity each year. Shown here, left to right, Eastern Bank Senior Vice President Don Uvanitte, Eastern Bank Branch Managers Donna Kelble and Terry Bellotti-Palmieri, and Interfaith Executive Director Rick Doane.

Jonathan Tetrault, left, Senior Director of Distribution Services at Greater Boston Food Bank, presented Interfaith with a $25,000 check in January to help us purchase a new larger, refrigerated food rescue truck.
Also pictured: Interfaith Executive Director Rick Doane, Food Pantry Driver Geoff Bowen and Food Pantry Manager Eileen Kelly.
Thank you so much to the following donors (and also to those who gave anonymously) who gave so generously to help us reach our goal: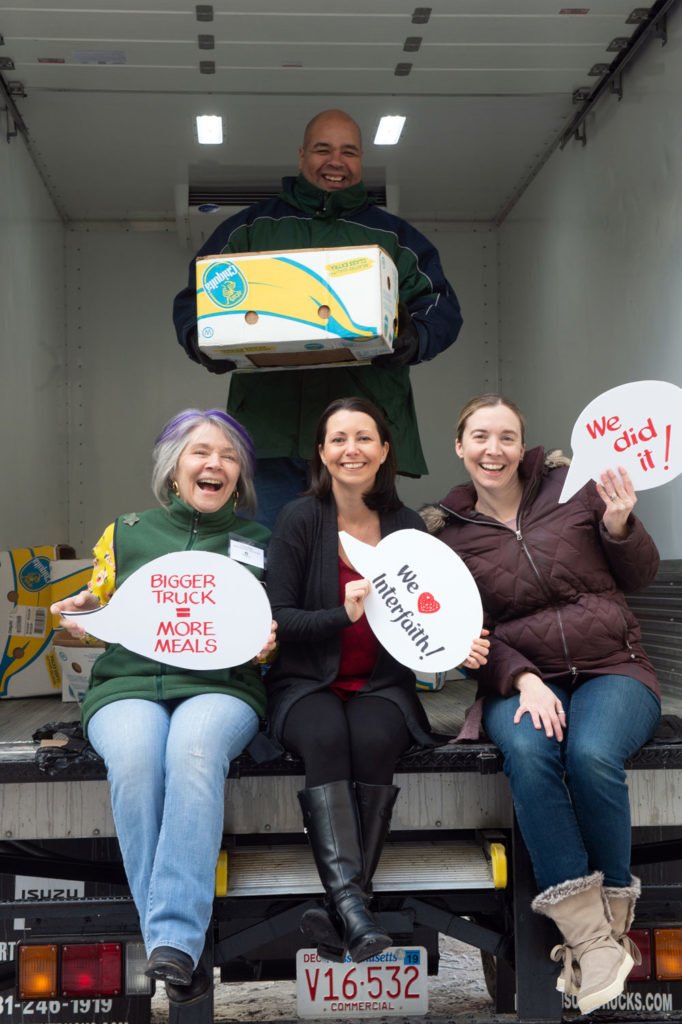 HarborOne Bank
Amelia Peabody Charitable Fund
Eastern Bank Charitable Foundation
Greater Boston Food Bank
James Cahill & Gillian Grossman
Kurt & Sarah Livermore
Lauren Payne & William Swanson
First Congregational Church of Milton
Sarah & Scott Alessandro
Mary & Thomas Dinneen
Rockland Trust
South Shore Bank
Holly & Joseph Andrus
Joanne Cormack
Bethesda Lodge No. 30 I.O.O.F.
Ethel Schow
Judith Gundersen
Justine & Ralph Palmieri
Jay & Gail Marvin
Maureen & John O'Donnell
Kevin & Cristina Duggan
George Rice
Elaine Joseph
Maggie Trudel
Karissa Colonel
Mary Ann & Robert Skjold
Evan Smith
William Carlson
Joanne Farrington
Cara Gallucci
Liz Tayne
Mark Pachelli
Michael Burke