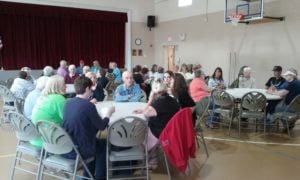 Over 50 eager gardeners filled Quincy's Kennedy Center on Friday May 20th to learn about container gardening. Participants walked away with free tomato seedlings, a bucket full of rich/nutritious soil and the knowledge to grow tomatoes anywhere there is sun.
This event kicked off this season's Plant.Grow.Share. program. Formally called Harvest Helpers, Plant.Grow.Share.
is a fresh food initiative for local food pantries. It is co-sponsored by Keohane Funeral Homes, Interfaith Social Services and the Weymouth Food Pantry.
"Plant.Grow.Share. is an initiative to provide fresh and healthy food to our local food pantries and to encourage local gardeners to help feed the
hungry in our community," said Joe Reardon, Vice President for
Community Development and Advance Planning at Keohane Funeral Homes.  "The tomato gardening workshop is one example of what Plant.Grow.Share. is all about."
At the workshop organic farmer Jon Belber, of Holly Hill Farm in Cohasset, supplied the knowledge and tools for participants to create their own tomato container garden. He told them how to plant the seedling, how often to water, where to best to grow them etc.  Then he sent each person home with an organic tomato seedling from the farm.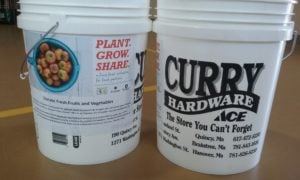 Curry Hardware donated buckets for all of the hopeful gardeners, and Keohane Funeral Home bought the organic topsoil from Scituate's The Green Connection.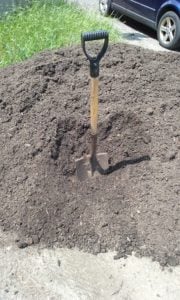 "For the past few years we have been encouraging local residents to donate fresh produce to area food pantries," said Rick Doane, executive director of Interfaith Social Services. "We want to nourish our clients with fresh local veggies, be we need the community's help to do it. So this year we are focusing on helping people grow tomatoes because they are a versatile and familiar vegetable.  We'd love to give them out to our food pantry clients on a regular basis, but it's very difficult for us to get our hands on good, fresh tomatoes. It is so easy for everyone to grow them right in a container on their porch.  If you have a spot of sunshine, you can grow tomatoes."
Once the tomatoes begin to ripen, Interfaith is looking forward to having a portion of the harvest donated to our Food Pantry in Quincy. "Our goal is to literally have a ton of tomatoes donated to our food pantry this summer," said Doane. "Even if people can't grow them, we hope that the community will embrace this idea and buy some veggies at the supermarket then donate them to a food pantry."
Donations from your garden or supermarket can be dropped off at Interfaith's offices: 105 Adams Street in Quincy from 8:30 a.m. to 3:30 p.m., Monday-Friday, and until 7:00 p.m. on Tuesdays.
Monetary donations are also always welcomed. Donations to the Plant.Grow.Share. program can be made HERE.
For more information about Plant.Grow.Share or about Interfaith's food pantry please email info@interfaithsocialservcies.org.