Due to public health concerns surrounding coronavirus and recommendations against large gatherings, we've made the decision to postpone our annual Stop the Stigma 5K, which was originally scheduled for May 2, 2020. Please see the letter below from our race director:
Dear friends,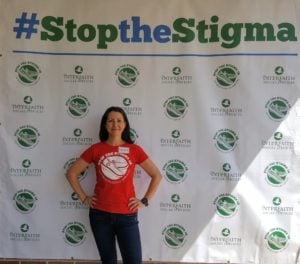 Today, I write to you not only as the Stop the Stigma 5K Race Director, but also as a fellow runner and someone who struggles with anxiety. The Stop the Stigma 5K is near and dear to my heart. Every year, I look forward to planning this event and seeing hundreds of people show up on that beautiful spring day to run in support of mental health. So today, it breaks my heart to let you know that because the current coronavirus crisis, we must postpone it. And I wish I could tell you the exact date that we can all get together in solidarity and run (or walk) for our loved ones who are suffering. But I can't. The reality is we do not know when it will be safe to gather again.
Yesterday, I went for a long run. I needed it to work through what I have been feeling and to try to feel hopeful. I am struggling to make sense of this all, with mounting anxiety about what this means going forward. And during my run I thought about what I was going to say in this email. I know we cannot control much right now. We are in the "long run" of our lives right now. It may not be as soon as we would like, but we can stay hopeful that we will be able to gather again to stop the stigma. Just like during any long run, if you take it one mile at a time and stay positive, you will get through it and it will feel rewarding in the end.
Since we changed the focus of this event several years ago to stop the stigma of mental illness and addiction and to raise funds for our New Directions Counseling Center, the community support around this has been awe-inspiring. We have raised $186,000 to provide counseling sessions to those that are uninsured or cannot afford their high co-pays or deductibles (close to 7,500 counseling sessions!). This event has truly saved lives. But there is still much work to be done. There are still so many of our friends, family and neighbors that suffer in silence or suffer because they cannot afford the help they so desperately need. And this current state of affairs is only going to exacerbate fears and anxieties. However, our New Directions therapists are there to help. They are currently taking protective measures and conducting counseling sessions over the phone.
We need your continued support to meet the demand that is and will be put on our therapists. This year we have raised $36,000 for the Stop the Stigma 5K through generous sponsorships, donations and your registration fees. We were on the trajectory to make this a record-breaking year. Help us keep that momentum going to reach our goal of $55,000. Please donate.
On May 2, go for a run or a walk and share it with us! As soon as we know when we can all get together again in celebration, we will be shouting it from the roof tops. Until then, please stay safe and stay well.
Take care,
Paula Daniels
Director of Development ~ Interfaith Social Services