Depression. Addiction. Anxiety. These illnesses affect one in five adults every year. So why aren't more people taking about these health issues? Interfaith Social Services' hosted our 43rd Annual South Shore Walk & 5K Race on Saturday April 29, 2017. Our goal was to get people talking and to raise funding for those in need of treatment who had nowhere else to turn for help. Our community rallied – hundreds of people filled the streets of Quincy – mission accomplished!
A record setting number of walkers and runners turned out and raised over $33,000!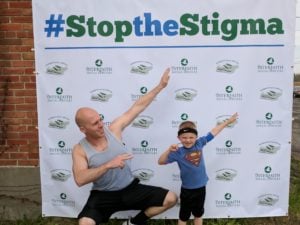 The phrase "Stop the Stigma" was painted on almost all available surfaces at the event. From t-shirts to signs the 5K and family fun festivities afterward all focused on supporting community members affected by mental illness and addiction.
"It shameful that there are stigmas associated with addiction, depression and other mental health issues," said Rick Doane, executive director of Interfaith Social Services. "People talk openly about their struggles with ailments like diabetes and cancer. However, many keep mental illness under wraps. This race gives us an opportunity to proclaim that there is no shame in mental illness. We walk, run and rally with family, friends and others to show those who are suffering that they can hold their heads high, their community stands with them."
The 5K race followed a scenic and challenging course through Quincy's Squantum neighborhood. The Boston skyline and Dorchester Bay served as a picturesque backdrop on this sometimes hilly but well-paved course, which started and ended at The Kennedy Center in Quincy.
After the runners and walkers finished the race they enjoyed a Family Fun Celebration at The Kennedy Center. The festivities included a kids' Fun Run, raffles, music, a bounce house provided by Busy Bee Jumpers, air brush tattoos provide by Tribal Sun Entertainment and more. The New England Revolution Battalion (the street team for Revolution Soccer), WROR 105.7 and Dave & Busters provided additional games and prizes. Local restaurants, Unchained Pizza and Balducci's House of Pizza, provided lunch to all participants. Everyone also enjoyed frozen treats from New England Ice Cream.
Runners relaxed with a neck and shoulder massage from Body Benefit Massage Therapy.
The South Shore Walk & 5K Race is supported by many local businesses, including Platinum level sponsors: Arbella Insurance, BMC HealthNet Plan, The New England Regional Council of Carpenters and Gold level sponsors: Makepeace Digital Imaging and Quincy College.
This year Interfaith is celebrating our 70th anniversary. For seven decades we have been reaching out to families in need. Our New Directions Counseling Center is our oldest program. The Center is a safety net to make sure that anyone who needs it can receive care regardless of their ability to pay. Interfaith was founded when the South Shore was facing a crisis. Thousands of people were losing their jobs as the shipyards decreased production after World War II.
Today our community is facing a different kind of crisis. Addiction has robbed our community of too many people; it has harmed too many families. At Saturday's 5K our community stood together and said to our friends and loved ones who are suffering, 'there is nothing wrong with reaching out for help.'
It is never too late to support this cause. Click here to donate: http://ow.ly/ms4Vq
Thank you to everyone who made the 2017 South Shore Walk  and 5K Race one of our most successful ever!
Here are more photos from the 5K on April 29, 2017. Photo credit Hurley Event Photography.