Hundreds of Interfaith Social Services' supporters gathered on Dec. 6 to "Party with a Purpose" at our 22nd annual Feed the Hungry Gala. The event, held at Granite Links Golf Club, raised more than $310,000 to support Interfaith's programs.
Thank you to all who attended and donated!
Make your gift go further!

If you made a donation for the gala, check to see if your company has a matching gift program and double your contribution to our mission!

Were you unable to attend and would still like to contribute? Donate Now
For those that could not attend, here is an overview of an evening filled with food, fun and breathtaking generosity:
We are overjoyed about the outpouring of support of our Feed the Hungry Gala! Accounting for one-third of Interfaith's overall annual budget, the Gala is instrumental in allowing us to carry out our mission. Our food pantry distributes more than 600,000 meals each year and seasonal programs provide local families in need with Halloween costumes, Thanksgiving meals, school backpacks and more. This week we are distributing holiday gifts to more than 750 children. The generous support given through our annual Gala enables us to keep up with the increased number of families coming to our door in need of food, mental health counseling and housing assistance.
The planning for this event started nearly a year ago as our gala committee worked tirelessly securing corporate sponsorships and organizing the auctions. A special thank you to this year's lead sponsors: Presenting Sponsor Arbella Insurance Foundation and Hero Sponsors including the Rural Masonic Lodge of Quincy, MavroCreative, Quincy Mutual Group, Signet Electronic Systems and A Healthy Balance, Inc. We are also incredibly grateful for our "Friends of Interfaith" sponsors who asked to remain anonymous. Your support means the world to us!
Our morning kicked off bright and early, as Granite Links Golf Club began to transform into a winter wonderland (with some help from a little flurry outside). A group of wonderful corporate volunteers from Arbella Insurance spent the day hauling supplies to the venue, setting up signage and games. Our friends at Stop and Shop set up a spectacular produce-themed display, including a life-size cardboard cutout of Marty the Robot, in the rotunda for our photo op backdrop. Best of all, the gorgeous fruit and veggies in the display were later delivered to Interfaith to distribute to our food pantry clients!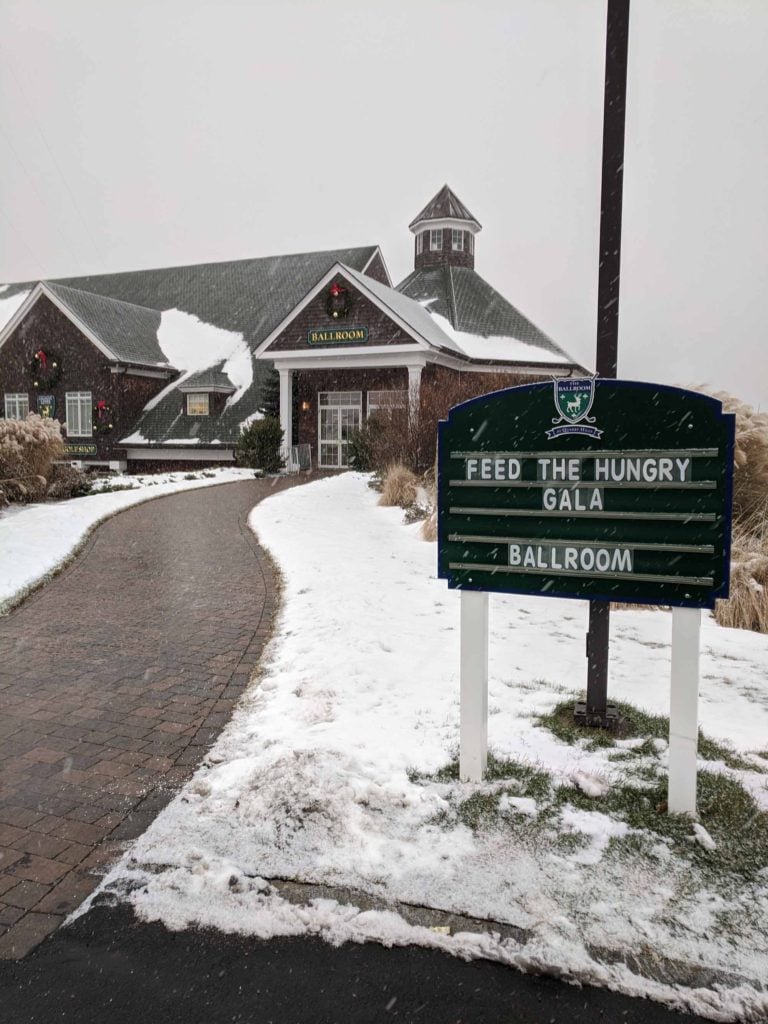 After checking in, guests were greeted with a Winter Berry Blast welcome cocktail from Spiritfruit. Guests could then browse our silent auction table, showcasing more than 40 fabulous packages including getaways, private chef dinners, sports tickets and more. Thank you so much to the hundreds of companies that donated auction items and gift certificates.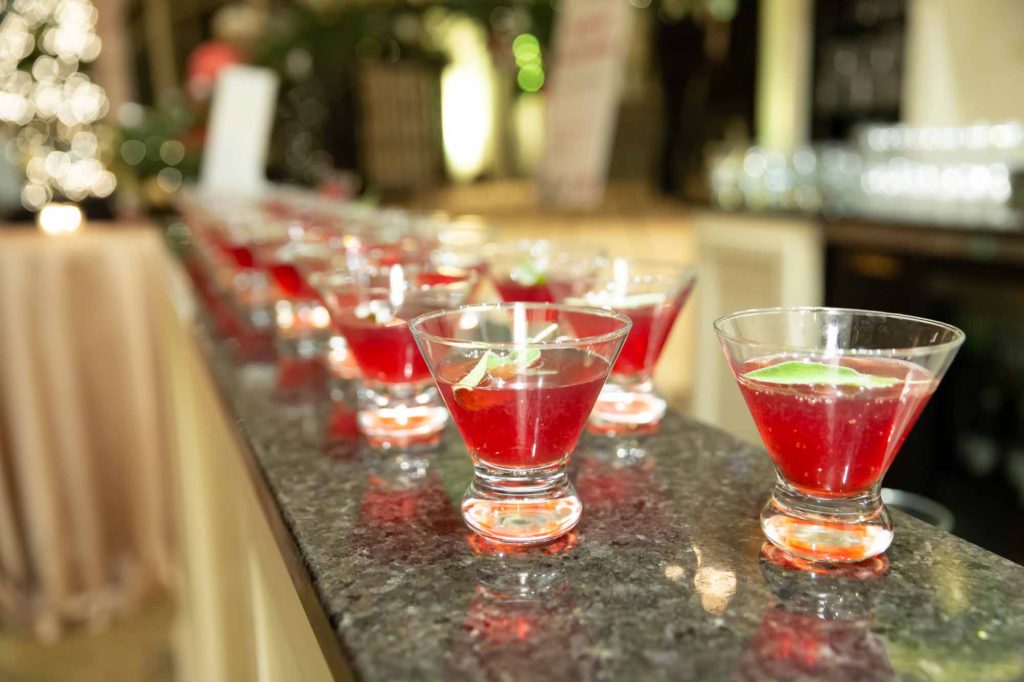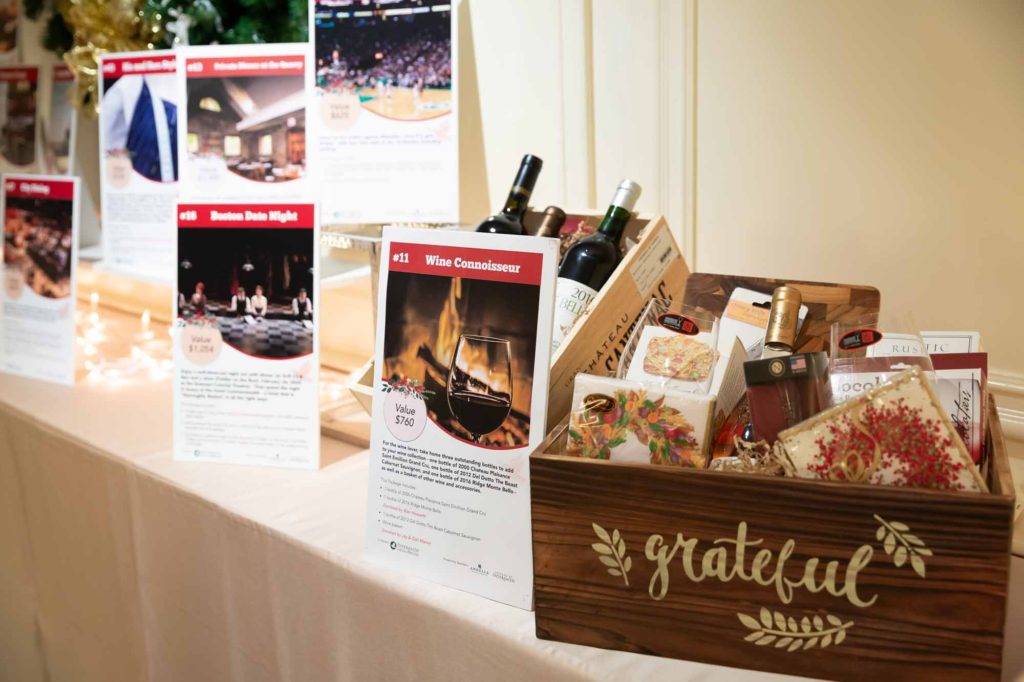 Gala guests sampled dishes and sweet treats from local restaurants Alma Nove, Big Rock Oyster Company, Fratelli's Pastry Shop, Granite Links Golf Club, JP Fuji Group, Montilio's Baking Company, Sadie Mae's Cupcake Café, The Corner Stop Eatery, The Quarry Restaurant & Lounge, The Range, The Townshend and Victory Point Marina Bay.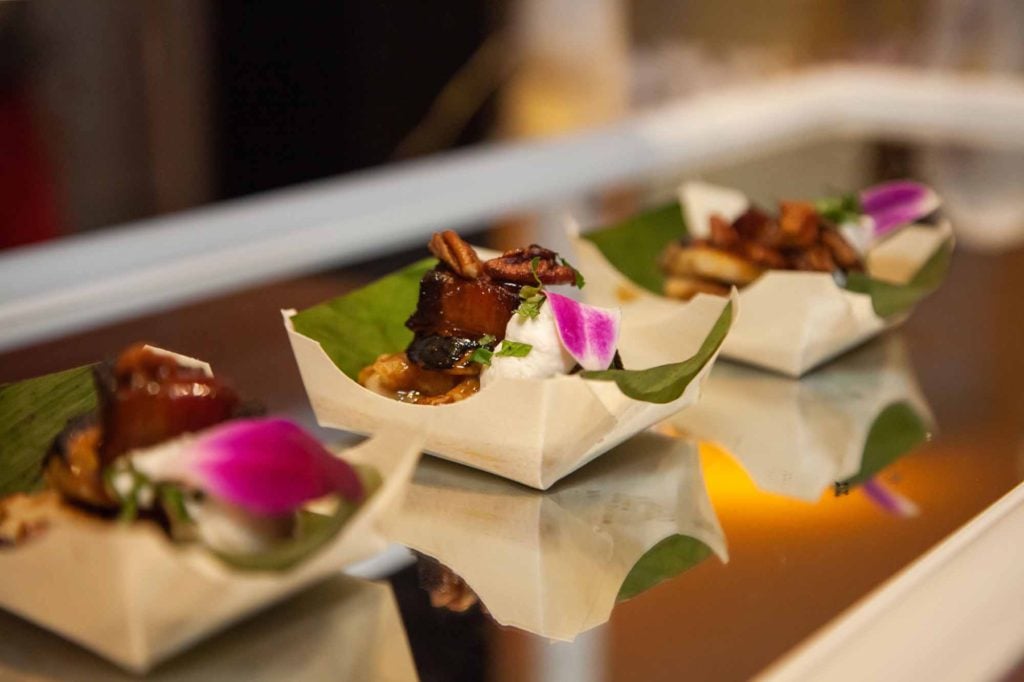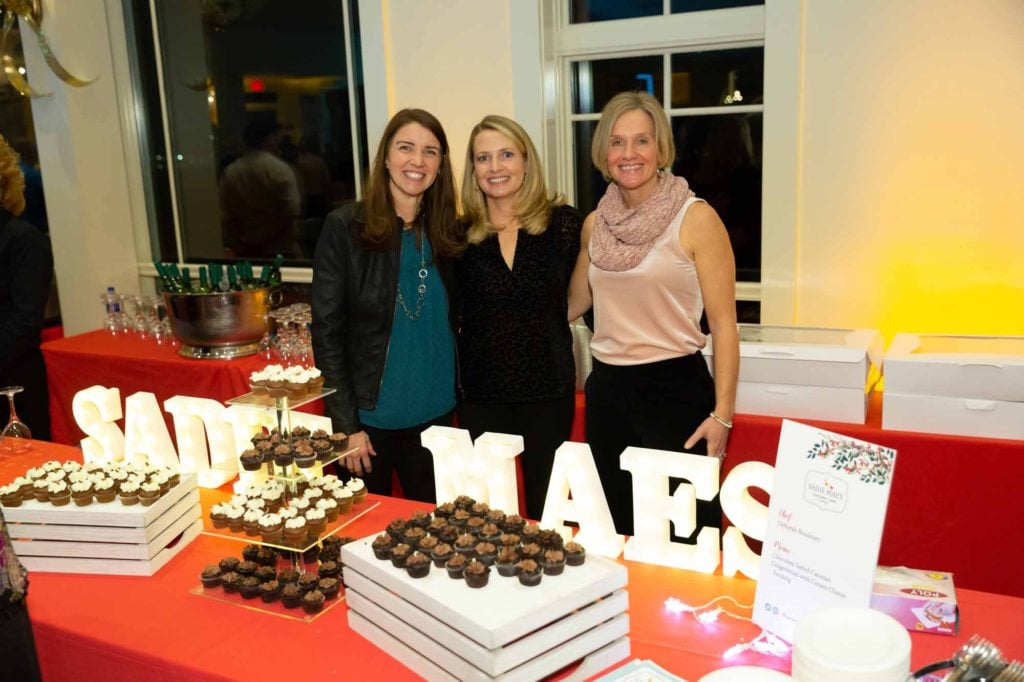 Representatives from Bent Water Brewing, Mayflower Brewing and Stellwagen Beer Company served up tastings in the Craft Beer Corner, Spiritfruit sampled their vodka and sparkling juice beverages, and Bin Ends poured wine tastings for the crowd. Coffee Break Café offered up coffees and flavored lattes.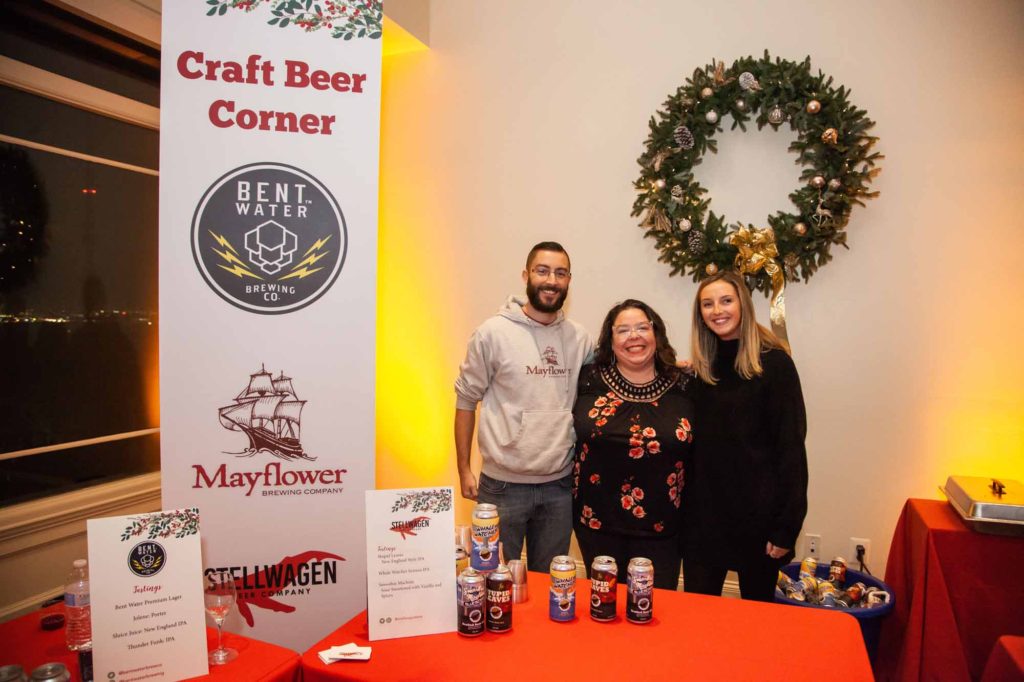 Fun games, including a Spin the Bottle wine game, Hole in One golf, new Punch Board and Cocoa Pong games and the ever-popular Snow Ball Toss, added to the festive atmosphere. Guests could win prizes valued from $5 to $500!
Our evening's program included a moving video that highlighted one of Interfaith's clients, Bill. Bill spoke about how Interfaith's counseling center and food pantry was there during a very difficult time in his life. Because of Interfaith, he not only was able to provide food for his family, but he also found dignity and hope. Bill is grateful for the support that our donors provide. It was heartwarming to see the generosity of our attendees as they raised their bid cards and made a pledge to Interfaith in reaction to hearing his story.
View Bill's video:


The night was extraordinary! But it takes a lot of work to make it all happen. Interfaith's Feed the Hungry Gala Committee, led by co-chairs Donna Mavromates and Maura O'Brien, is made up of an incredible group of volunteers who show their compassion and dedication by working overtime collecting auction items, securing sponsors, organizing volunteers and much more. They are amazing - THANK YOU!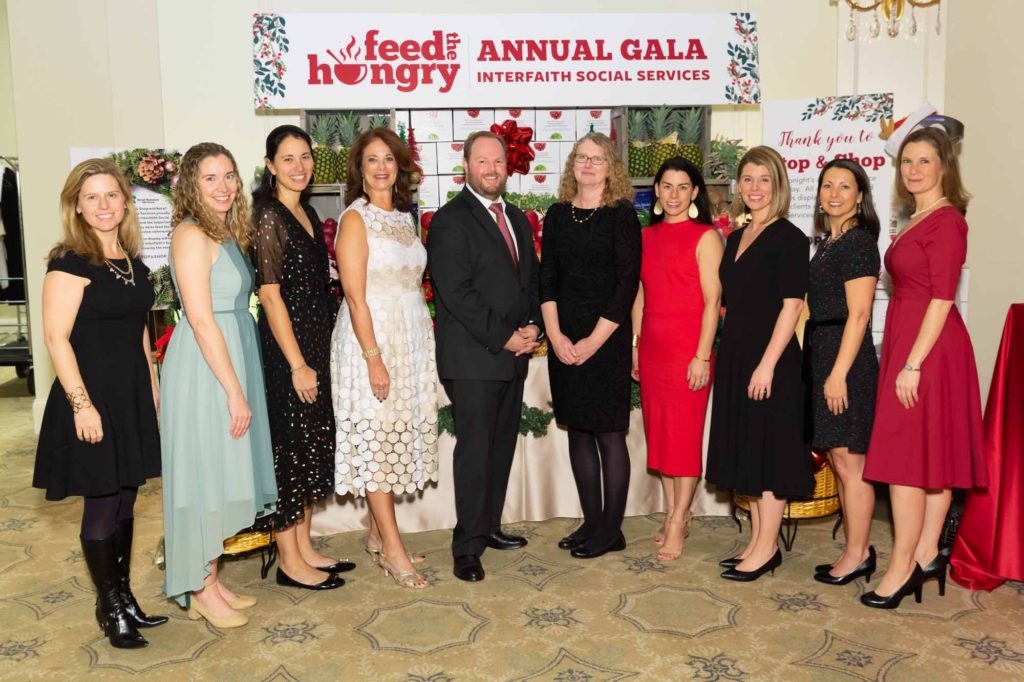 Want to see more photos from the event? Check out our album on Facebook.
Be sure to Save the Date for our 23rd annual Feed the Hungry Gala on December 4, 2020!