What a night! On Friday December 9, 2016 over 500 guests filled Granite Links' Ballroom in Quincy Massachusetts to set another fundraising record for Interfaith Social Services. Over $300,000 was raised to provide food, mental health counselling and emergency assistance to South Shore residents in need! Accounting for one-third of Interfaith's overall annual budget, this Gala is incredibly important to our organization. We couldn't keep our doors open without the support we receive on this special night each year.
We know that many people wanted to attend the event but were unable to because the Gala sold out. So, for those of you who couldn't be there in person here is an overview of an evening filled with food, fun, libations and breathtaking generosity.
As guests arrived some were lucky enough to enjoy a ride in courtesy Tesla vehicles which brought people from their cars to the ballroom. After checking in everyone was greeted with a signature cocktail crafted by Boston Harbor Distillery. Then the tastings began…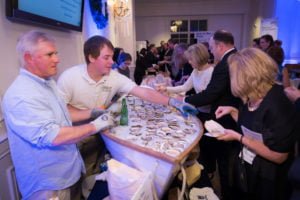 Chef Ming Cao from Fuji prepared an amazing selection of Japanese makimonorolls. The crew from Island Creek Oysters worked hard all night shucking oysters for guests. Chef Greg Jordan and his team from The Quarry Restaurant & Lounge whipped up a delicious Provencal Cassoulet. Chef Sam Cabral-Curtis from The Corner Stop Eatery made a scrumptious dish of tuna, avocado, cilantro & lime with corn tortilla chips.
Gala attendees were privy to the next big thing opening in Quincy in early 2017. Chef Garner Blume from Belfry Hall prepared Benton's country ham with homemade biscuits and gravy. Chef Frank Van Overbeeke from iCater gave us all a treat with Mississippi pot roast and smashed potatoes. Our dine-around reception wouldn't be complete without Chef Paul Wahlberg of Alma Nove. His dishes are always a crowd pleaser.
At the end of the evening Pastry Chef Kate Holowchik from The Townshend whipped up some homemade S'Mores Brownies. Paired with these desserts, the crew from Coffee Break Cafe treated all of the Gala guests to some specialty coffee selections. To top it off, Granite Links served their sinfully decadent gourmet hot chocolate.
This amazing dine-around and dessert receptions were just two of the many festive activities guests enjoyed at this year's Feed the Hungry Gala. Carnival style games kept everyone competing for fantastic prizes all night. Games included: Wine Ring-toss, Hole-in-One, Polar Pong, Snowball Toss, Giving Tree, 50/50 Raffle and the guest favorite Blinky Light Game.
In between playing games guests rocked out to the musical stylings of the very talented Mark Greel Band. Master Illusionist Darren Yong amazed attendees with his sleight of hand.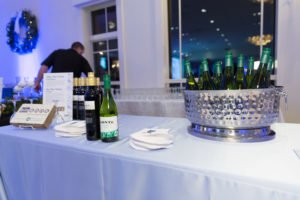 Not only did guests enjoy amazing food, games and live entertainment they were treated to an assortment of adult beverages as well. There were two incredible wine tasting stations courtesy of Bin Ends Wine. Spirit tastings were scattered throughout the venue thanks to Bradford Distillery, Bully Boy Distillers and Boston Harbor Distillery. For the nondrinkers, like Interfaith's executive director Rick Doane, Simpson Spring set up an array of their unique soda samplings from the oldest bottling plant in the United States.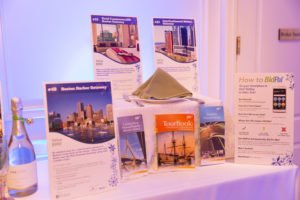 Using BidPal's technology guests bid on an amazing variety of silent auction packages including signed sports memorabilia, getaways, exclusive experiences and other one of a kind items.  Yes, it is too late to bid on them but at least you can take a peak to see what kinds of packages to expect for next year…when you buy your tickets extra early before they sell out again 🙂
Almost all of the items in our silent and live auctions were donated by local businesses. Please support all of the wonderfully generous businesses who donated. Tell the managers that you heard about them at the Feed the Hungry Gala, show our community that supporting local nonprofits is important to you as a consumer.
Emcee extraordinaire Latoyia Edwards of NECN/NBC Boston did an amazing job guiding guests through the evening's program. Before the live auction began everyone got an update on Stephanie, a food pantry client who had spoken at last year's Gala. Click here to see how she is doing today.
After hearing from Stephanie the live auction began. Guests had the opportunity to bid on exclusive theater premiere tickets, a vacation getaway courtesy of JetBlue, a Tesla for the weekend, one of a kind dining experiences, an amazing backyard transformation package and more.
As bidding wound down Latoiya brought Priscilla, a food pantry client, to the stage. Struggling with emotion, Priscilla told her story. She explained how she and her husband John, both in their 40's, were surprised with a baby son born in September 2015. They had been living paycheck to paycheck when John fractured his elbow. With a baby and medical expenses, groceries were running low and Christmas seemed impossible. That is when Priscilla walked to Interfaith's offices. She talked about the joy and humility she felt as Interfaith's volunteers offered her fresh vegetables, diapers, Christmas gifts for her son and more. Priscilla spoke on behalf of the thousands of clients who visit Interfaith every year.
In an amazing display of generosity guests then raised their bid numbers and, in a matter of minutes, donated over $70,000 to help all the families served by Interfaith!
After this emotional outpouring of support Interfaith's Executive Director Rick Doane recognized another key component of Interfaith's service model – our volunteers. Last year volunteers gave over 23,000 hours of service within Interfaith's programs. One volunteer was honored at the Gala as this year's Community Hero of the Year, Charlene Manning.
Charlene volunteers in Interfaith's Bureau Drawer Thrift Shop. She serves in the shop almost every day of the week. She is there early in the morning and into the evening, sorting, organizing, planning sales and getting the shop ready for customers. Charlene looks for any opportunity to bring a little joy to the children sitting in our food pantry waiting room. She is constantly thinking about ways that she can support Interfaith's various programs. The qualification for being selected as the community hero is "one who inspires others through selfless service." Charlene absolutely embodies that ideal.
If you didn't know it, Interfaith has best Thrift Shop anywhere! All sales fund our programs. The shop is entirely run by volunteers. Donate to us and shop with us. Stop by and you're guaranteed to run into Charlene and many of our other amazing volunteers.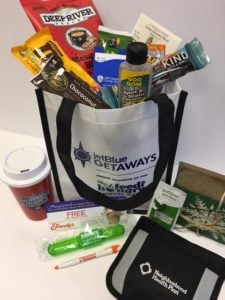 After the program many guests danced the night away during the dessert reception. When they finally dragged themselves away from the dance floor, attendees received these awesome gift bags packed with treats from Gala sponsors and friends.
The evening was fantastic, raising more money than any other fundraiser in Interfaith's history, but it takes a lot of work to make it all happen. Interfaith's Feed the Hungry Gala committee is an incredible group of local volunteers who show their compassion and dedication by working overtime collecting auction items, sponsorships, organizing volunteers and more. They are amazing!
2016 Feed the Hungry Gala Committee
Want to see more photos from the event? Check out our album on Facebook (photo credit Pierce Harman Photography.)
It takes a team to get the venue ready for the Gala every year. Thank you to our wonderful volunteers from Arbella, they transformed Granite Links Ballroom into a winter wonderland.