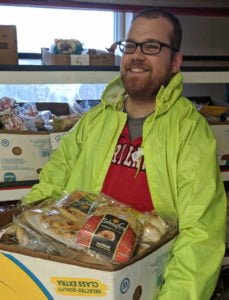 Robert began volunteering with us in August 2017 as an afternoon food pantry helper and has quickly become one of our go-to guys – filling in when others are out, helping Geoff with food rescue runs and throwing in a hand wherever needed.
He's a communications professional currently seeking new employment (Got a job lead? He's into transportation and urban planning communications!).
Eileen says:
"Ever since Robert started with us he has consistently gone the extra mile – he is always pleasant, cheerful, ready to do whatever needs to be done. He has great organizing skills and repeatedly has been available in a pinch when we have needed extra help. Robert always stays till the job is finished.  The Food Pantry can look like a storm hit after the morning pantry shift, but after Robert has been working our shelves are clean, organized, rotated and restocked.  Robert's great attention to detail gives me confidence that we are providing our neighbors with quality food from our pantry shelves.  An extra bonus of having Robert at the Food Pantry is his wicked dry sense of humor – you know you are going to laugh when he is here."
We asked Robert 5 Questions:
Why did you choose to volunteer at Interfaith?
Food insecurity is a huge problem in this country, even though it has the world's largest economy. I wanted to help with that. I have a fair amount of time while I search for employment and it doesn't hurt that Interfaith is 20 feet from my home.
Is there an aspect of our mission that motivates you to want to volunteer here?
Definitely the fact that you offer mental health care. As a cancer survivor, I know the importance of mental health in life and think it is an important part of recovery.
What other volunteer experience have you had?
I've volunteered a lot in public radio, dressing up as children's characters and manning phones.
What do you enjoy most about volunteering here?
Rescuing the amazing amount of food that would otherwise go to waste. It doesn't hurt that the staff always have smiles on their faces and the volunteers are having fun.
Tell us something interesting about yourself that the other staff and volunteers may not know.
I did not waste my youth playing video games. I've gone sky diving, bungee jumping, SCUBA diving, and have even flown an airplane. Alone.
**********
Know someone who may be interested in volunteering? Have them reach out to volunteer coordinator Paula Daniels at 617-773-6203 ext. 28 or pdaniels@interfaithsocialservices.org.